Dear clients
I love a good facial, I really do. I love pampering, the way my skin glows afterwards and getting to lie down for an hour while someone rubs delicious smelling products into my skin. What's not to love? But I find it difficult, between facials, to figure out what to do with my skin as all that treatments didn't deliver a long life results to my skin, for many years I spent hours staring at the many wonderful promises on skincare labels, trying to decide which one to trust. Well, finally my search is now finished and I am so happy to share with all my friends that I've found Environ Skin Care Range.
The introduction of vitamin A into skin care formulations was a ground-breaking development in skin care. Dr Des Fernandez, rated amongst the top five plastic surgeons in the world, was a pioneer in this field in the 1980s discovering the essential role vitamin A plays in skin health.
Vitamin A is the cornerstone ingredient in the Environ skin care philosophy – an essential skin nutrient that must be replenished daily for skin to appear healthier and more resilient. Environ aim is to support the long-term health of the skin rather than a quick, temporary fix. The freshest, most active forms of Vitamin A, C and antioxidants are driven deep into the lower levels of the skin using sound waves and small electrical pulses. This scientific approach stimulates collagen to soften lines and improve elasticity, increase hydration and boost radiance.All its ingredients are based on pharmaceutical and medical evidence. Environ products are not tested on animals, contain no animal extracts and are free from artificial colorants and preservatives.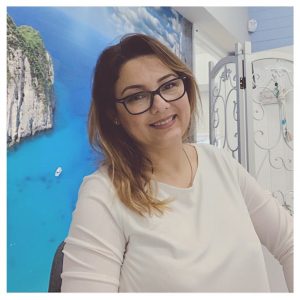 Treat yourself to a PERSONALISED ENVIRON Facial, your skin reborn beautifully.
Active Vitamin Treatment
Packed with nourishing anti-aging ingredients, the Active Vitamin Treatment will leave your skin looking radiant and dewy. The freshest, most active forms of vitamin A, C and antioxidants are driven deep into the lower layers of the skin using sound waves and small electrical pulses. This scientific approach stimulates Collagen to soften lines and improve elasticity, increase hydration and boost radiance. The Active Vitamin treatment is suitable for all skin types and is particularly effective at addressing sun-damage, pigmentation, premature ageing, dryness, uneven skin tone and scaring with measurable differences after just one session.
Precision Treatment
This time effective treatment targets specific areas of concern using unique skin care techniques that ensure effective results. This treatment is perfect for when your time is limited.
The Frown Treatment
This highly effective treatment uses a special penta-peptide serum to target frown lines and achieve dramatic results. The unique combination of active ingredients is driven deep into the skin to soften lines and reduce muscle tension in the forehead helping to prevent new lines forming. The treatment targets the same chemical complexes as injectable without the associated risks.
Hidra Boost Treatment
The perfect antidote do dry, lacklustre skin, this intensive treatment deeply hydrates while plumping and firming the skin. Based on hyaluronic Acid, which holds 1000 times its own weight in water, it helps to reduce fine lines caused by dehydration and increase the plumpness of the dermis, resulting in moisturised, glowing skin.
Collagen Power Facial
This peptide packed facial helps to boost collagen, soften fine lines and tighten lax skin, resulting in a more youthful appearance. Ideal for targeting mature or photo-damaged complexions.
The treatment uses gentle sound waves to drive a special nutrient packed serum deep into the lower layers of the skin. The formula contains a unique combination of three peptide complexes which work in synergy to give skin a plumper more radiant appearance.
Purifying Treatment
Created to purify micro-exfoliate and re-hydrate your skin, this particular treatment assists with the treatment of acne, scarring and deep skin congestion. The combination of scientifically advanced products and techniques revives and refreshes your skin, leaving your skin feeling like new.
Vitamin B12 is an essential compound that we get from animal based food sources. It's essential to maintain the normal functioning of the brain, nervous system and the processes involved in producing red blood cells. Sub-optimal levels of B12 can lead the body to express symptoms of tiredness, fatigue, malaise, poor memory and reduced mental function, also referred to as 'mental fog'.
Found naturally in meat, poultry, eggs and milk, Vitamin B12 is also a key component of many oral vitamin supplements, aimed at increasing energy levels. Because the vitamin is water-soluble it quickly leaves the body in our urine via our kidneys, meaning that we need regular amounts. It's not harmful in high doses and plays a vital role alongside other vitamins and minerals in optimising the various processes within the body.
Vitamin B12 supplementation is essential for those following a plant based diet. 
An injection of B12 can bring on immediate health benefits.
– Increases Energy Levels and Concentration. …
– Improves Metabolism and Helps With Weight Loss. …
– Boosts the Immune System. …
– Helps Improve Sleep Patterns. …
– Helps Stop Certain Types of Hair Loss.
Please view our range on the left hand side and example treatments. To include : ENVIRON SKINCARE RANGE, BEFORE & AFTER TREATMENTS, A, C & E BODY TREATMENT, VITA-PEPTIDE EYE GEL TREATMENT,  ACCUMAX & ENVIRON CLARITY + TREATMENT
ANTI WRINKLES TREATMENTS
BOTOX Basic Procedures:
Frown lines, Horizontal forehead lines, Crow's feet
3 Areas
£190
2 Areas
£130
1 Area
£ 95
BOTOX extra procedures
Eyebrow lift
£ 50
bunny lines
£ 50
Lip lines
£ 95
Marionette lines
£ 95
Neck bands
£200
Chin puckering, Chin Lines
£130
Gummy Smile
£150
PROFHILO
revolutionary skin rejuvenating injections
* Reduces appearance of lines and wrinkles and
re-hydrate the skin
* Moisturises from inside out
* Uses Slow-release Hyaluronic Acid
* Stimulates the production of collagen and elastin
* Can be used on the face, neck, decolletage & hands

£250
AQUALYX Fat dissolving injections:
Aqualyx is an injectable solution which liquefies fat cells, destroying them for good. The lipids are then re-leased and eliminated naturally by the lymphatic sys-tem. Quick, convenient and minimally invasive,
Aqualyx can be used to treat almost all small deposits of fat, but the most popular treatment areas include the chin,thighs, arms and stomack.


Chin area
£90
Upper Arms
£120
Full stomach & waist area
£190
Full back
£250
DERMAL FILLERS
frown lines
£100
Lips 0.5ml
£160
Lips 1ml
£245
Cheeks
£250
Nasolabial
£250
Marionette Lines
£250
Downturned Mouth 0.55ml
£160
Combination of Nasolabial & Marionette
£420
Vycross Juvéderm Filler
Cheeks
£350
Nasolabial
£350
Marionette Lines
£350
Combination of Nasolabial & Marionette
£560
Revolax
frown lines
£85
Lips 0.5ml
£135
Lips 1ml
£215
Cheeks
£230
Nasolabial
£230
Marionette Lines
£230
Downturned Mouth 0.55ml
£135
Combination of Nasolabial & Marionette
£390
Vitamin B12
£20