Dear clients
I love a good facial, I really do. I love pampering, the way my skin glows afterwards and getting to lie down for an hour while someone rubs delicious smelling products into my skin. What's not to love? But I find it difficult, between facials, to figure out what to do with my skin as all that treatments didn't deliver a long life results to my skin, for many years I spent hours staring at the many wonderful promises on skincare labels, trying to decide which one to trust. Well, finally my search is now finished and I am so happy to share with all my friends that I've found Environ Skin Care Range.
The introduction of vitamin A into skin care formulations was a ground-breaking development in skin care. Dr Des Fernandez, rated amongst the top five plastic surgeons in the world, was a pioneer in this field in the 1980s discovering the essential role vitamin A plays in skin health.
Vitamin A is the cornerstone ingredient in the Environ skin care philosophy – an essential skin nutrient that must be replenished daily for skin to appear healthier and more resilient. Environ aim is to support the long-term health of the skin rather than a quick, temporary fix. The freshest, most active forms of Vitamin A, C and antioxidants are driven deep into the lower levels of the skin using sound waves and small electrical pulses. This scientific approach stimulates collagen to soften lines and improve elasticity, increase hydration and boost radiance.All its ingredients are based on pharmaceutical and medical evidence. Environ products are not tested on animals, contain no animal extracts and are free from artificial colorants and preservatives.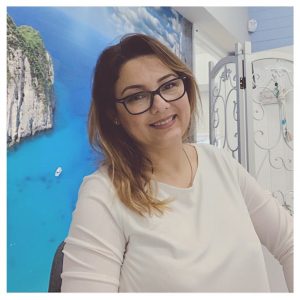 Treat yourself to a PERSONALISED ENVIRON Facial, your skin reborn beautifully.
| Unique Line (including the first retouch within 30 days) | £250 |
| --- | --- |
| Duo Perfect (including the first retouch within 30 days) | £300 |
| Shadow (including the first retouch within 30 days) | £350 |
| Retouch up to 6 months | £200 |
| Home care cream | £20 |